Improved Order of Red Men
This page updated November 25, 2012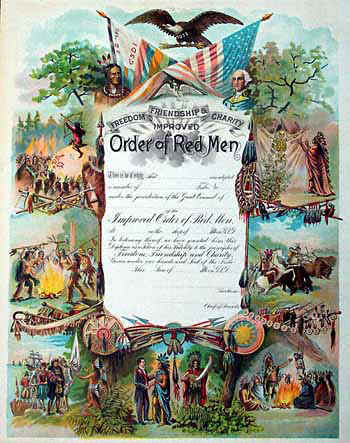 The Improved Order of Red Men is a national fraternal organization that believes inů Love of and respect for the American Flag. Preserving our Nation by defending and upholding the principle of free Government. America and the democratic way of life. Preserving the traditions and history of this great Country. Creating and inspiring a greater love for the United States of America. Helping our fellow men through organized charitable programs. Linking our members together in a common bond of Brotherhood and Friendship. Perpetuating the beautiful legends and traditions of a once-vanishing race and the keeping alive some of the traditional customs, ceremonies, and philosophies.
There is a women's auxillary order of this fraternity known as the "Pocahontas of the Redmen" but I have found no members in our counties.
I have listed these alphabetically with the township/lodge listed next to them, if it is known.


Red Men Services at Quincy 1917


| | | |
| --- | --- | --- |
| Owen | Morgan | Putnam |
| I. Louis COURIM--Freedom | DR. Daniel B. LOCKHART-Paragon Seminole Tribe #125 | Henry M. OSBORN-- Bainbridge |
| James COURIM--Freedom | John VOYLES -Paragon Seminole Tribe #125 | |
| George HICKS--Freedom | | |
| George MASSEY--Wayne Township | | |
| Isom McGUIRE--Spencer | | |
| Emery H McCULLOUGH | | |
| Dewey Scott WOOD--Spencer | | |
| William H. SECREST--Spencer | | |