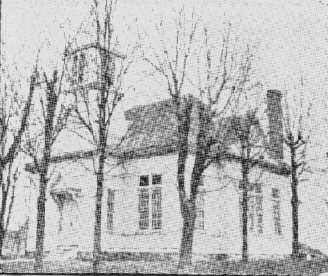 Photo of Old Bethel Church
This was submitted by Joel Franklin (thanks!)
The following was written about the Bethel Church in 1883:
Article by: James Mathes, Editor, Christian Record
Pg. 31. Bethel Church is one of the oldest churches in Owen County, and is situated in a good farming district, in the western part of the county, some ten miles west of Spencer, the county seat. I had held a meeting of some interest here, when I was a "boy preacher," more than forty years ago, while Elders Frederick Houser, Obediah and Thomas Winters were the preachers in the church, and 9-were immersed at that time. But time had made great changes. The old log meeting-house has disappeared; a new one was built, which was burned some years ago, and the present spacious house is the third one. And the congregation has been greatly changed also. The three preachers named have all passed to the other shore...
We made headquarters, during our stay, with brother Joel Dillon and family. The family consists of Bro. and Sister Dillon and their son Walter, who became obedient to the faith during the meeting.


Website Coordinator